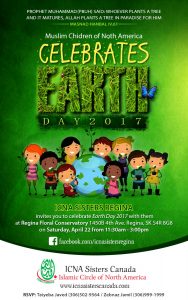 ICNA Sisters Regina cordially invite you to the Earth Day celebration, which will be held on

 

April 22, 2017

. The event will go from

 

12-3pm

 

at the Regina Floral Conservatory.

For being Muslims, it is our responsibility to take care of the community that we live in. The MCNA children are hosting this event to increase awareness about global warming, pollution, green earth, and recycling through various posters, models, songs and presentations.

 We  would encourage you to attend the event with your family. This is a great opportunity to show solidarity and support young Muslim children, and it will be a great educational experience for you and your children.

Also, Regina Floral Conservatory is a beautiful place to visit.