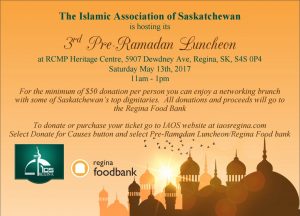 The IAOS is holding a Pre-Ramadan Luncheon and fundraiser for the Regina Food Bank on

May 13th

at the RCMP Heritage Centre.

The Regina Food Bank is a vital institution in our community and serves both Muslims and non-Muslims. It's important that Muslims show their support for those less fortunate in Saskatchewan.  We encourage members to purchase tickets for $50 per person. Donations above that amount are also welcome. There will be good food and great company InshAllah! All proceeds will be given to the Regina Food Bank, and tax receipts will be issued.

To purchase tickets, go to the IAOS website, scroll to the bottom of the page, and select the Pre-Ramadan Luncheon/Regina Food Bank option. Please include the number of people attending. There is limited seating so attendance will be on a first come, first serve basis and note this is not an appropriate event for young children.