IAOS New Masjid Update
Please click on this link to view new masjid design – New Mosque Project – Artistic rendering
We would like to inform you that we have applied for the development permit of our New Masjid. We are planning to begin construction this year with your support and assistance, In Sha Allah. Building a suitable Masjid in Regina is an Islamic obligation upon all of us, which also facilitates our sense of community. To facilitate your contributions towards our New Masjid in this blessed month, you are cordially invited to participate in the Virtual Fundraising scheduled on Friday, May 22, 2020, from 9:30 PM to 10:45 PM. The program of this blessed gathering is as follows:
Presentation of the Masjid Drawings
The financial status of the New Masjid Fund
The fundraising will be conducted by our respected Imam Dr. Mohammed Masloh.
The Zoom invitation will be posted on our website a few days before the fundraising function.
As our Prophet PBUH taught us:
Whoever builds a mosque for Allah, Allah will build for him a house like it in Paradise.
– Sahih Al Bukhari- 
We are looking forward to your participation and your support to start the construction of the Masjid this year, In Sha Allah.
May Allah accept all your good deeds in this blessed month.
– Land Purchased & Prepared for Construction (Paid):           $2,750,000
– Qarad Hassan to be paid by Dec 2020:                                $ 100,000
– Qarad Hassan to be paid by Dec 2021:                                $ 100,000
– Qarad Hassan to be paid by Dec 2022:                                $ 100,000
– GST Obligation ( (50%  rebate expected):                            $137,500
– Cash in the New Masjid fund as of May 2020:                      $158,000
– Objective to collect in 2020 to start building phase 1:             $1,500,000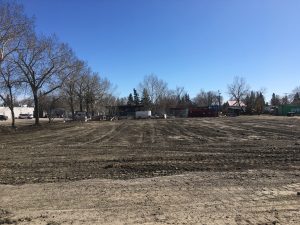 The IAOS Board is pleased to announce that with the grace of Allah and the support of our community, the demolition of the building on 641 Victoria Ave is now complete.
The demolition, which began on March 27, 2019 and was completed on April 8, 2019, included the disposal of over 800 tons of waste. The site was then filled with 864 cubic metres of clean backfill soil and compacted. The soil quality and density was tested and both surpassed guidelines. The test results confirm that the site is now suitable for future development. The demolition, disposal and backfilling was successfully carried out in accordance with municipal and other guidelines. No further work is necessary. Below you will find pictures of the site during and after the demolition.
The demolition cost of $145,000 plus tax must still be paid for. The IAOS Board has negotiated a payment deadline of July 31, 2019. In addition, we are still required to pay GST on the purchase of the land in an amount yet to be determined. We ask for your continued generosity and support in order to meet these upcoming financial obligations. Your donations will support the building of a new Masjid, providing everlasting rewards in the Dunya and the Hereafter. Donations can be made on our website here.
Should any member of the community have any questions or concerns, the Board will be happy to address them. May the continued effort and support of our community please Allah SWT and earn us his blessings and rewards.