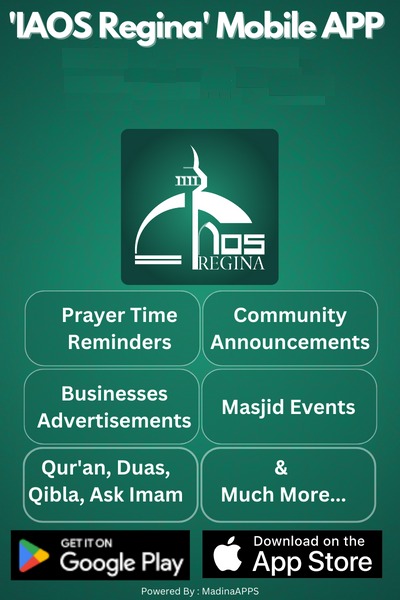 CONGREGATIONAL PRAYERS
Maghrib time changes every day.
Maghrib Jama'h starts 5 mins after sunset.
| SALAH | JAMA'H TIME |
| --- | --- |
| FAJR | 7:20 AM |
| DHUHR | 1:30 PM |
| ASR | 4:30 PM |
| MAGHRIB | 6:02 PM |
| ISHA | 8:00 PM |
| JUMMAH 1 | 1:20 PM |
| JUMMAH 2 | 2:05 PM |
Weekly Lecture
Our imam Mohamed Abdelsatar delivers lectures (Qura'an and Family Halaqa) twice a week in the masjid on various topics. All are welcome to view various lectures on our Imam's corner page or on our Imam's Youtube channel.
Please donate generously for the construction of the new mosque and to meet the needs of the growing Muslim population of Regina.

Please donate generously for the maintenance and running of the IAOS east Musallah, JAK!

Become a member or renew your membership If you are not a member currently, please fill out membership form below first prior to donating through here. https://iaosregina.com/members-corner/

Donate to IAOS South Masjid, your contribution will go to ensuring the daily operation of the Masjid.

FEATURED

Fidya is an expiation or compensation donation, paid within the Islamic tradition by individuals who cannot fulfill the obligation of fasting due to illness or old age. Kaffara is also an expiation or compensation donation within the Islamic tradition paid by individuals who deliberately miss or break a day of fast during the month of Ramadan without a valid reason.

FEATURED

Zakat al-Fitr is a charity given to the poor at the end of the fasting in the Islamic holy month of Ramadan. It is equal to the price of one meal, which is estimated at $10, given on behalf of every member of the family.

FEATURED

Zakat is a form of alms-giving treated in Islam as a religious obligation or tax, which, by Quranic ranking, is next after prayer (salat) in importance.

FEATURED

Islamic Association of Saskatchewan (IAOS), Regina has introduced "IAOS Education Fund" for managing our all educational programs and services efficiently that we are delivering to the community based on the demand.

FEATURED

Sadaqah is the necessary constituent of a believer`s faith through which it seeks Pleasure of the Creator of the world of the worlds by helping out the poor and others in a state of need.